6 instruments out‑of‑box.
One great app.
Guitar, ukulele, 6-string ukulele, banjo, mandolin, and dulcimer. No more switching apps for different instruments. Same interface, same app.
3 beautiful themes.
Hand-crafted for you.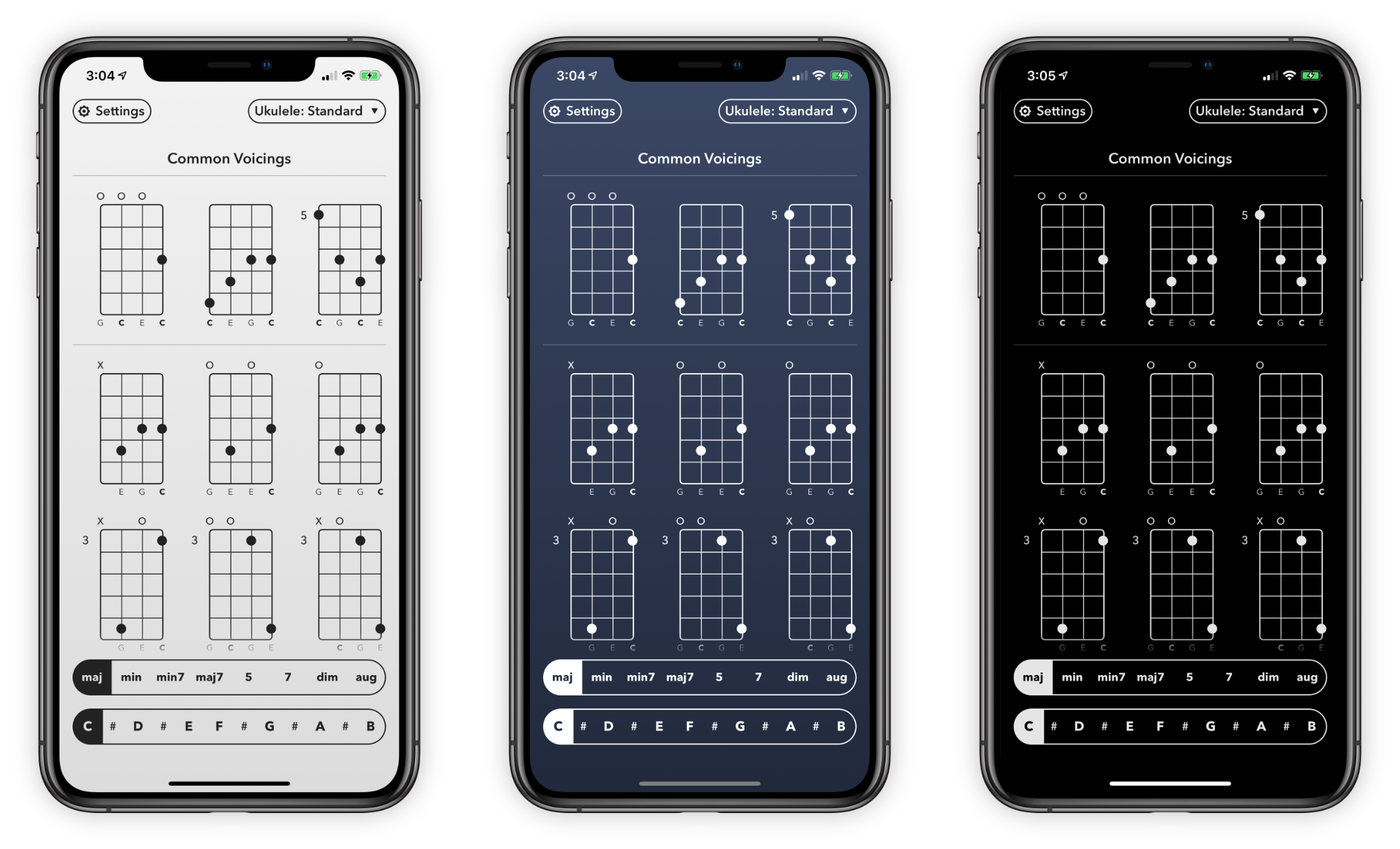 Purely algorithmic.
The possibilities are endless.
Selah Chords is powered by a chord finding algorithm. While most chord finders use preloaded databases, this hampers what they can do. Because of this algorithm, Selah Chords knows much more about each voicing.
With this algorithm, Selah Chords can show the notes under each string, filter by bass note, read the voicing with VoiceOver, and even allow Custom Tunings to find chords on alternate tunings and instruments we've never heard of.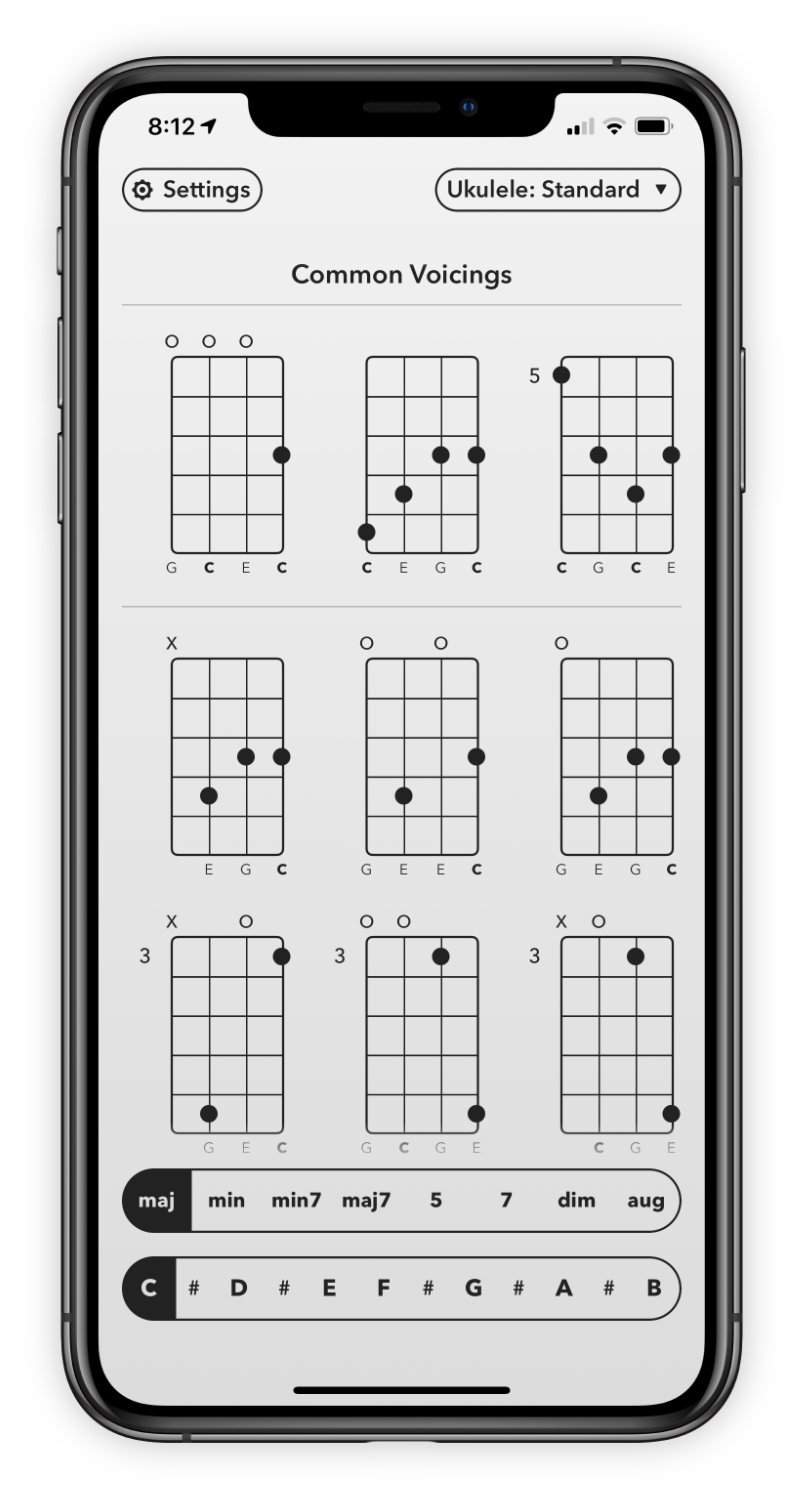 Filter voicings.
Easily find that inversion high on the neck.
By default, Selah Chords sorts voicings by fret, pulling Common Voicings and your Favorites to the top. With filters, you can select the bass note and lowest fret to find the perfect voicing.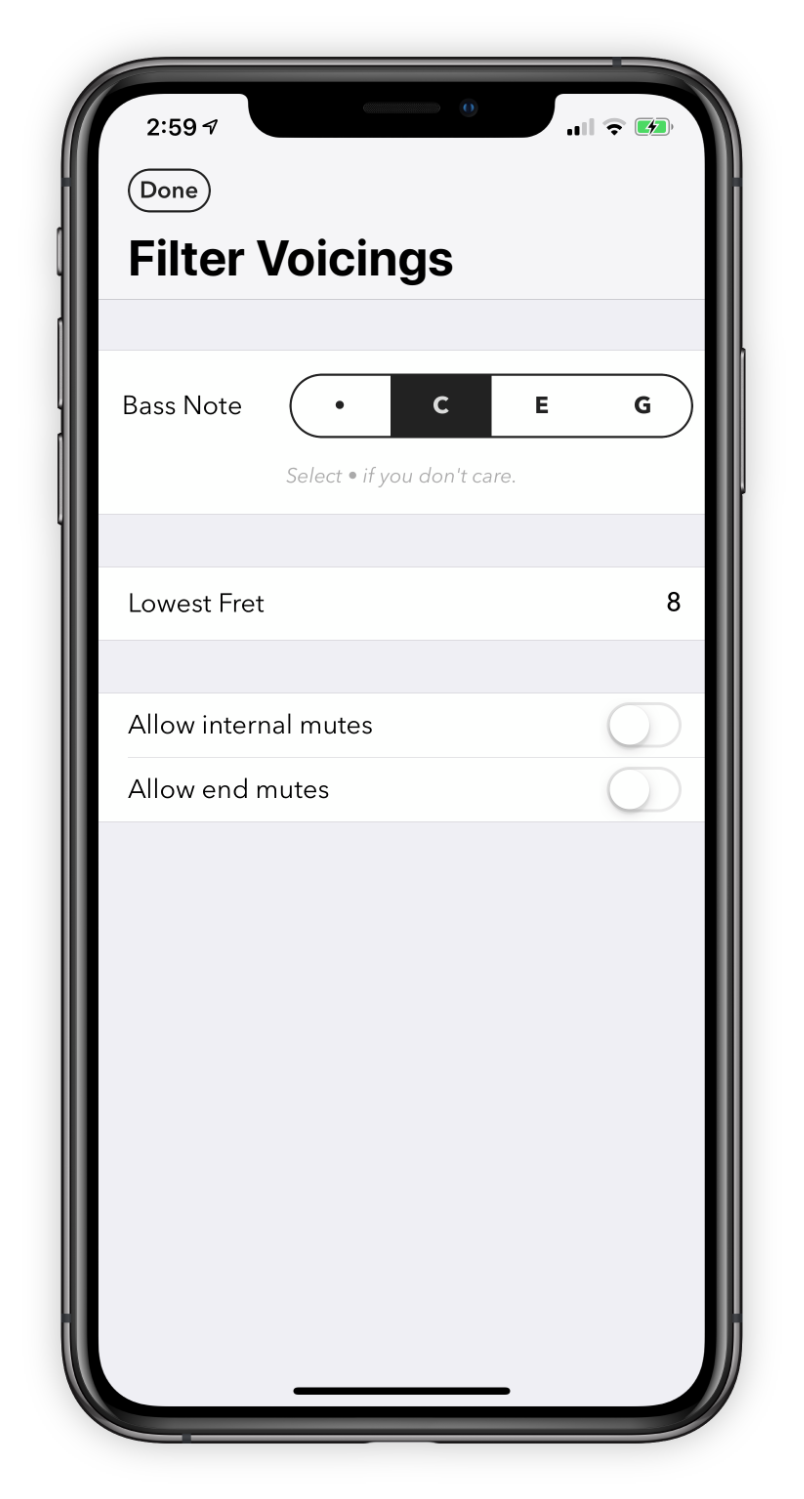 Custom tunings.
Add anything from a 3-string cigar box to a 7‑string bass.
While we could certainly add dozens of tunings— out-of-box, Selah Chords supports 11 tunings— Selah Chords instead empowers you to customize the list according to your needs.
With support of 3-7 strings, chromatic and diatonic fretting, and that weird 5th string on banjo starting a little late, Selah Chords lets you add almost any stringed instrument you desire.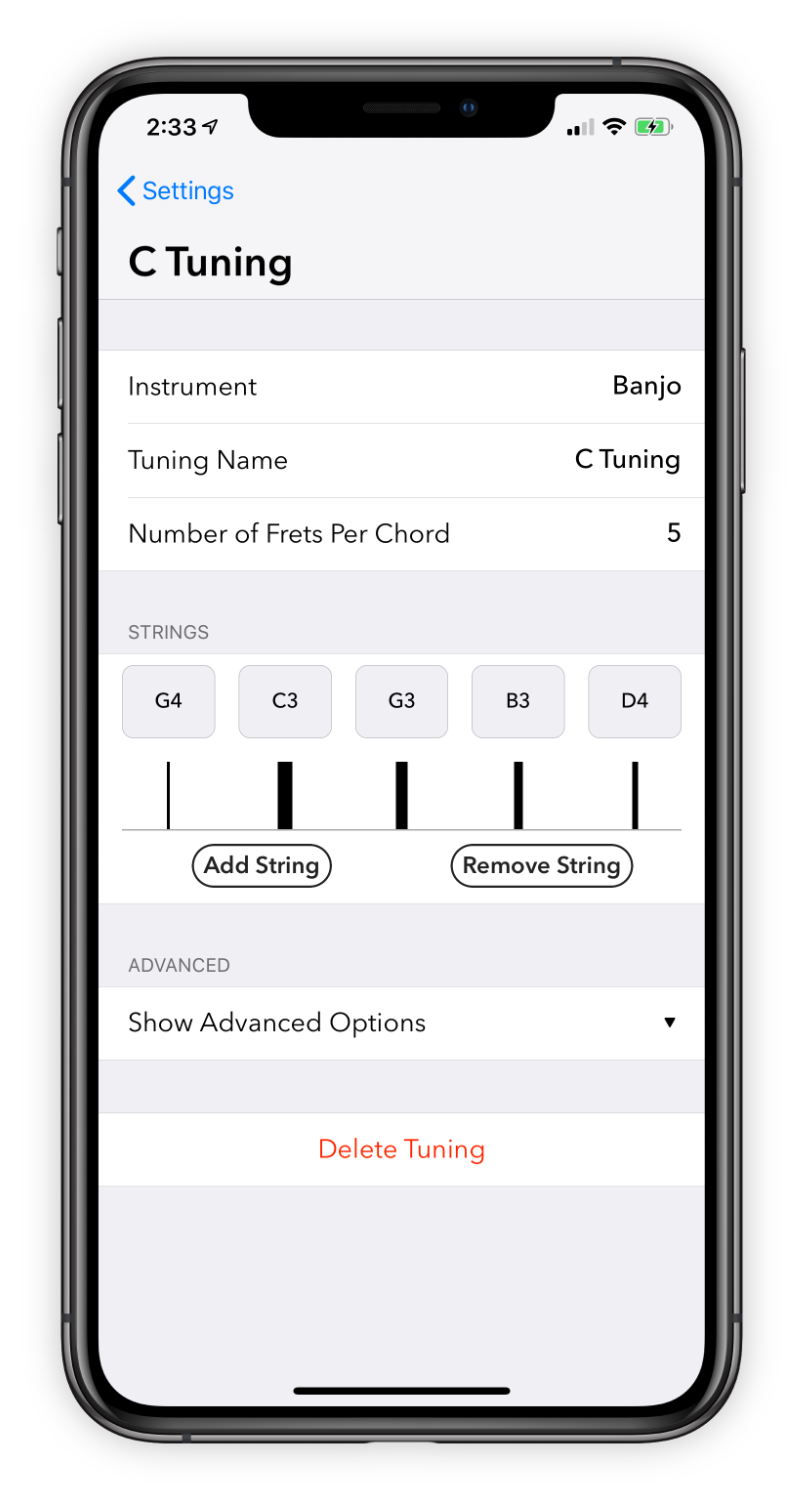 Accessibility.
Everyone is unique.
Another benefit of the algorithmic nature of Selah Chords is it knows how chords are formed. It has to, as it draws every chart you see. It knows what a barre is. It knows about frets, strings, and more. So what can this be used for?
When VoiceOver is enabled, Selah Chords provides accessibility text for each voicing, telling you exactly what strings to fret and what barres to form.
C maj at fret 1

On 4th string, fret the 5th fret.
On 3rd string, fret the 4th fret.
On 2nd string, fret the 3rd fret.
On 1st string, fret the 3rd fret.
This is a one-of-a-kind feature that sets Selah Chords apart.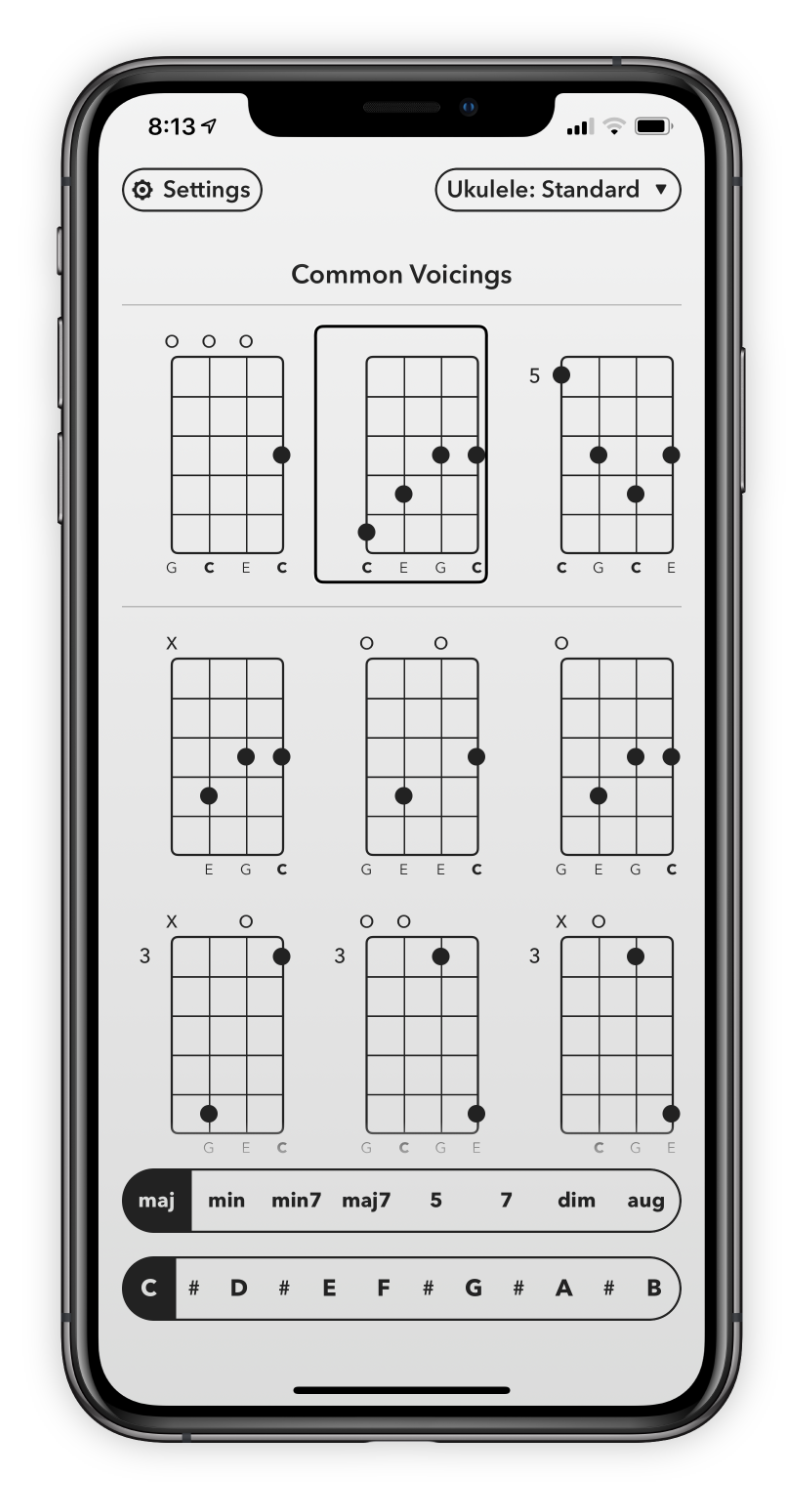 And all of this works on iPad too.
And why shouldn't it?
Selah Chords supports full- and split-screen as well as slide-over on iPad. Multitask to your heart's content. Also, drag voicings to other applications, great for sharing the perfect voicing with a friend, bandmate, or student.